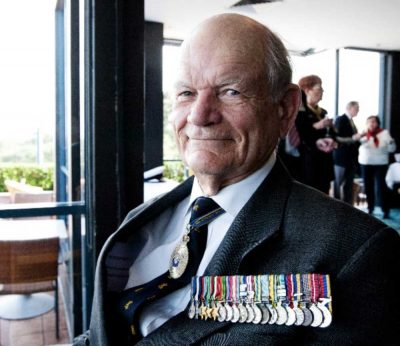 VALE ANDREW JOHN ROBERTSON
Rear Admiral AO DSC RAN – 1925-2020
Navy League of Australia Federal Executive 1987-2011
Navy League of Australia, NSW Division Executive, 1982-2020
It was with great sadness that this July the Navy League of Australia and The NAVY learned of the death of Rear Admiral Andrew John Robertson AO DSC RAN. Chief of Navy, Vice Admiral Michael Noonan AO RAN signalled the Fleet, inter alia:
It is with great sadness that I inform you of the passing of Rear Admiral Andrew John Robertson, AO, DSC RAN (RETD). RADM Robertson made a most significant contribution to Navy, in war and in peace, during his distinguished 43-year career, and in the four decades since his retirement.
One of our most admired leaders, his courage under pressure and calm demeanour in the face of adversity has set the benchmark for our navy leaders now, and for generations to come.
Andrew Robertson is a role model for what navy officers can achieve in the most demanding of circumstances.
He always sought to fight through obstacles, and rose to all challenges both in war and peace. Andrew is one of those rare men who contributed as much to Navy and Australia during his 43-year's active service in the RAN (from 1939 to 1982) as he did in the thirty-eight year's he was blessed with after his retirement. In truth, Andrew never retired. His mind was as active, passionate and enquiring as it was when he was a thirteen-year-old, cadet midshipman joining Navy and the RANC. Unsurprisingly, he was awarded the prestigious King's gold medal.
A BATTLE FOUGHT
There was perhaps a sense of regret that drove Andrew throughout his two careers. Of "not being there" – essentially of atonement. Andrew joined HMAS AUSTRALIA (II) six-weeks after The Battle of the Coral Sea. We are fortunate that he was not there because we may well have lost him if he had been. His rare courage would have put him at the forefront. His atonement was in gaining recognition for the Battle of the Coral Sea and for shipmates who fought there and did not come home. The Prime Minister Scott Morrison, speaking on board USS
Ronald Reagan (CVN 76), 19 Jul 2019, recognised:
The Battle of the Coral Sea as being The Battle for Australia.
Andrew was instrumental in achieving this long sought after recognition for Navy. A battle that provided the essential denouement, without which Kokoda would not have occurred.
In 2015, looking forward to the 2017, seventy-fifth Anniversary of the Battle of the Coral Sea, Andrew wrote of the need to commemorate the event as it had been during the 50th. [1] In the event, the anniversary was disappointingly downplayed in Australia and fully recognised in the U.S. Andrew again played his part. His paper was provided to the Naval Attaché in Washington for use at anniversary events, and the Embassy put in contact with Andrew – who was there for the 75th anniversary on board USS INTREPID (CV-11) in New York. This was a hugely important occasion for Australia. His presence enabled a platform for then Prime Minister Malcolm Turnbull to meet with President Donald Trump and rebuild relations after a shaky start. Indubitably, the current standing of Australia and the RAN – seen at the July 2020 AUSMIN – is based in no small part upon the rapprochement enabled by Andrew. His final rejoinder to country and Navy was to [2]:
Stick with the Yanks, and pay our way – but this cannot now be done on a mere 2% of GDP!
AT WAR AND PEACE
In 1944, midshipman Robertson went to England for his sub-lieutenant's course, where, true to form, he received first-class certificates in seamanship, navigation, gunnery, torpedoes, signals, air operations and anti-submarine warfare. [3] During this time Andrew tells an interesting story, where we might have again lost him.
Andrew was messed at the St Dunstan's Home for the Blind (as it was then called), near Brighton, England. It was early evening, and he was having a bath on the upper floor. St Dunstan's was designed to help the partially sighted, with large windows providing 360 degrees of light into the building. The Air Raid siren sounded just as he got into the bath. Andrew jumped out, grabbed his dressing gown and headed out. As he exited the bathroom, he saw a V1 doodle-bug cruise missile "coming straight for [him]". He realised that he did not have time to get out of the building, so decided to return to his steel bath, where he reasoned "[he] would be the safest and most comfortable". From the luxury of his bath, looking out above his "toes and taps", he was able to follow the inbound V1. It narrowly missed the building, flying at level to Andrew past the right-hand windows. Andrew calmly completed his ablutions and got on with the rest of "his" WW2.
On November 16, 1952, Andrew was awarded the DSC. His citation reads:
His calmness and disregard of personal danger when most effectively controlling the armament in a relatively prolonged action against an enemy coastal battery of four guns which hotly and accurately engaged HMAS Anzac on 16 November 1952 was most notable.
Vice Admiral Peter David Jones, AO, DSC RAN (Rtd) commenting on this action [3] notes:
Anzac was at anchor protecting the garrison on Cho Do island when fired on by four 76mm guns hidden in caves more than 10 kilometres away.
"In this perilous situation, Anzac quickly slipped her cable, leaving a buoy marking the anchor. Due to the nearby shoals, Anzac was prevented from making a quick seaward escape,"
"Fortunately, in a spirited fight, Anzac's guns found the caves' entrances and the smoke and dust partly obscured the destroyer from the artillery. A running duel ensued for 23 minutes with Anzac firing 174 rounds with 50 from the enemy falling near the ship."
As Anzac's gunnery officer, Robertson was an indispensable part of the ship's many engagements with enemy forces, and for his service, was awarded the Distinguished Service Cross.
Before retirement, while commanding HMAS Albatross, then Captain Robertson initiated the establishment of the Australian Naval Aviation Museum, now the Fleet Air Arm Museum. A remarkable museum, today of world renown. During this time, he helped facilitate, from ALBATROSS, the evacuation of more than 350 local residents who had been trapped in their homes after floods inundated the Shoalhaven. Lessons learned, which were subsequently used in the mass transit of supplies into, and people out of, Darwin after cyclone Tracy in December 1974.
BEYOND THE CALL
After serving as head of the Australian Defence Staff to the Australian High Commission in London, and being appointed Officer in the Order of Australia in the Queen's Birthday honours list (1980) for "service to the Royal Australian Navy and the Defence Force", Rear Admiral Robertson became Flag Officer Naval Support Command, Sydney. An appointment recognised by him being made a Freeman of the City of Sydney for "enhancing the bond between the Navy and the City".
In retirement, Andrew was the driving force behind the conception and creation of the Australian National Maritime Museum. He was named the inaugural honorary fellow in 2016.
In 2016, Admiral Robertson was the key instigator behind the wonderful Windjammer Sailors statue in Darling Harbour. Maritime museum director and chief executive Kevin Sumption said:
The council and staff of the museum are saddened by the loss of our great friend RADM Robertson. He was one of our earliest champions and we bear daily witness to his legacy in the work we do here. The Windjammers Sailors statue, in the museum's forecourt, was donated by RADM Robertson and is much loved by our visitors.
At the time of his death, Andrew was also the patron of the HMAS Sydney Association and Training Ship Sydney for naval cadets.
SERVICE TO THE NAVY LEAGUE OF AUSTRALIA AND "THE NAVY"
Men like Andrew Robertson are truly unique, if not "indispensable". Paraphrased, the character Roy Batty in the 1982 genre-film Blade Runner, might have opined:
I've seen things you people wouldn't believe. Carriers on fire in the darkness of the Coral Sea. I watched our boys return from the horrors of Japan and walked over ground zero at Hiroshima. All those moments will be lost in time, like tears in rain.
Andrew's advice to colleagues and fellow members of the NLA and its different Divisions was always honest and forthright. In the words of Colonel Jessop (A Few Good Men (1992)):
Admiral Andrew Robertson could handle the truth. He could live in a world of steel walls and, in guarding those walls, save lives.
His encouragement was always sage and measured. While welcoming the return of Japan to the global stage, he also warned of their philosophy. Noting that Japan had never truly atoned for their crimes during WW2. While building and looking toward the quadrilateral dialogue between Japan, Australia, the U.S., and India, Andrew also understood and shared China's concerns about Japan. In this, he was seeking both to defend Australia, and find ways of helping China identify a path "beyond Xi and his Princelings". Away from the harm they have done, even before COVID. Much to the anger and fear of numerous honourable Chinese people and diaspora communities in Hong Kong, Taiwan, Singapore and Australia. Including the brave Doctors of Wuhan who died trying to get the truth out.
We will Remember.
Rear-Admiral Andrew Robertson is survived by his wife Patricia (Pat) and children Angus, Jane, Julia and Bruce.
References:
Robertson, A. (2015). Coral Sea 2017: We Will Remember (by Rear Admiral Andrew Robertson AO DSC RAN (Rtd)). The NAVY Magazine – Journal of the Navy League of Australia, Vol 77, No. 4, Oct-Dec, pp. 28-31.
Robertson, A. (2019). The Battle for Australia. The NAVY – Journal of the Navy League of Australia, Vol 81, Iss 3, Jul-Sep, pp. 24-26.
Tomlinson, A. and T Barlass (2020) Naval gunnery officer awarded DSC for Korean War bombardment, Sydney Morning Herald, Obituaries, 13 July.